WHAT IS DESIGN GENIE?
We believe that access to quality graphic design and marketing should not be limited to large corporations with high-powered design agencies. We are committed to finding affordable marketing and design strategies for small businesses to help their business grow.
Design Genie is an unlimited graphic design service that allows your business or organization to have access to a marketing and design professional that will help you with your creative needs for a single monthly fee.
THERE ARE ALL KINDS OF MONTHLY DESIGN SERVICES OUT THERE.
WHY SHOULD YOU CHOOSE DESIGN GENIE?
We're aware that we're not the only unlimited monthly graphic design service out there. Some are cheaper, some offer faster turnaround, a bigger design team, etc. Why should you choose Design Genie for your graphic design though?
We're vested in YOUR success. We want you to feel like we're an extension of your team, rather than a service you use.
We've got over 15 years of design experience in a lot of different industries.
We're not just another monthly design service – we offer digital marketing, SEO, web design and other marketing and design services. We can offer suggestions on how best to use the work we do for you.
We are priced competitively with other monthly graphic design services and we even offer 20% off your first month!
Need a design strategy? No problem. We can help you develop a smart strategy for sharing and utilizing your graphic design.
WHAT TYPES OF PROJECTS DOES DESIGN GENIE INCLUDE?
Brochures, Flyers & Rack Cards
Letterhead, Envelopes & Business Cards
Posters, Banners & Signs
Online Banner Ads
Web & Email Graphics
Social Media Graphics
Menus, Table Tents & Coasters
Invitations, Programs & Tickets
T-Shirts, Hats & Promotional Items
Logos & Branding Elements
Infographics & Custom Illustrations
Landing Page & Email Templates
Signup for Inspire
Our monthly e-newsletter filled with marketing & design tips to help inspire you to do more with your marketing.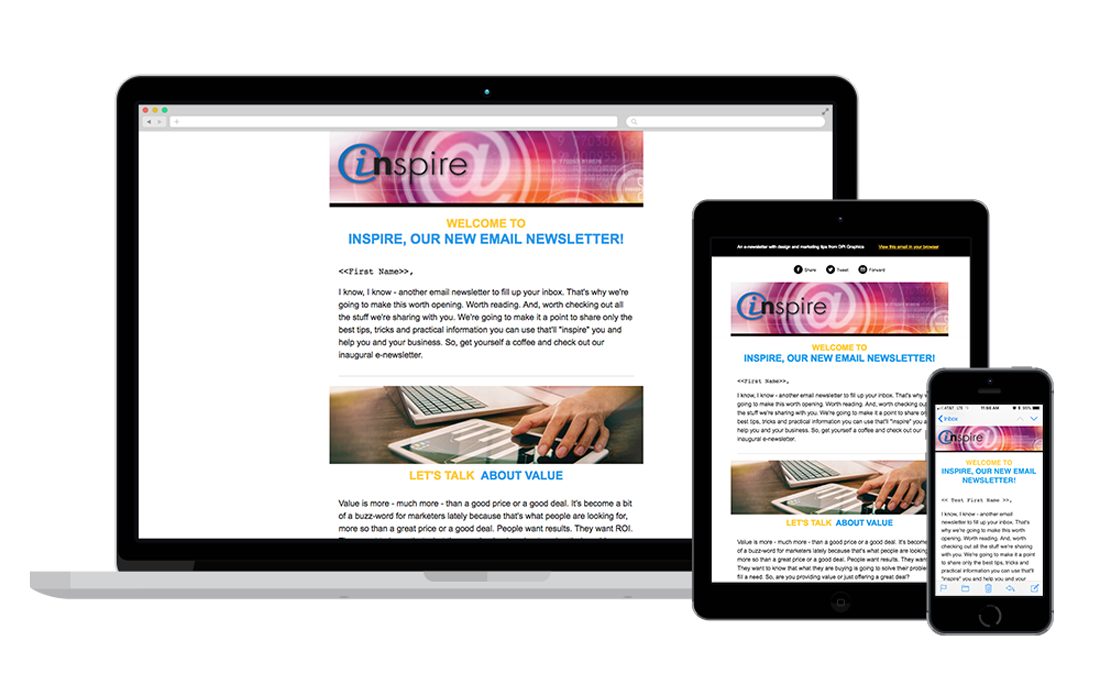 FREQUENTLY ASKED QUESTIONS
ABOUT DESIGN GENIE
Do I have to select a monthly design plan?
No. Our unlimited monthly design plans simply make it easier and quicker for design projects to be completed, with the billing process being handled by credit card on a monthly basis. Please note that the a la carte pricing and hourly rates will be much higher to coincide with the value and level of work we provide.
Can I cancel at any time?
Yes. No contracts, no commitment.
Is there a money back guarantee?
Yes. If you are not completely satisfied with your project's design, we'll give you your money back.
What kinds of design is covered in the monthly plans?
Typically, our unlimited monthly design plans are the best fit for businesses and organizations who have several small projects, such as business cards, mailers, advertisements, posters and promotions, over the course of a months time. Larger projects required hours and hours of work such as large magazines with advertisements, books, logos, etc. are projects better suited to an hourly rate or other flat rate fee. Not sure? Ask us!
Can I make changes to the designs?
Absolutely. Our packages are designed so that you get the design support you need until your project is just the way you want it.
Payment for any of our monthly design plans will be made by credit card through our website using the links above. The link takes you to a Paypal payment page and will redirect you after the payment is complete. <strong>YOU DO NOT NEED TO HAVE A PAYPAL ACCOUNT</strong>. Note: This is a recurring monthly payment and will automatically be deducted from your card each month as specified on the checkout page. For a limited time, the first month of your monthly design plan subscription will be 20% off the regular monthly price, with regular pricing resuming the next month.