Announcing Unlimited Monthly Design Services
By now, you've probably seen this coming – our teaser social media campaign, our Google ad and our Facebook ad have all been promoting our newest service offering – unlimited monthly design plans. The new service, available now by clicking here, allows unlimited monthly access to a graphic design (right now, yours truly) with some conditions (IE number of brands, required turnaround, level of need, etc.) Our new unlimited monthly design plans, I think, are a great deal, especially for businesses that need a lot of design support over a month's time. It takes the load of already busy graphic designers so that they can continue to create high level graphics for your organization by outsourcing smaller projects to us. Same great design quality and service you have come to expect from DPi Graphics, all for a single monthly rate. It's a win-win.
HOW YOU SAY?
Well, first, ongoing graphic design support that you pay for ONCE in a month, without any surprise bills from your designer allows you to get the design projects done that you need completed without worrying about budget constraints. It's an "always on" kind of thing – you reach out with your project and it gets done. Powerful. Simple. And it'll be done by someone who understands your brand, your marketing and what you're trying to accomplish.
If you've already got a designer, that's great! We're not trying to steal you from them. We're merely offering a solution to avoid having your designer overwhelmed and overworked with projects so that it all gets done timely AND on budget. Leave the high level stuff for your designer – let us handle your smaller projects – social media graphics, mailers, business card changes – that's the kind of stuff that adds up that we can help with.
Just starting a business  or entrepreneurship? Our unlimited monthly design plans are perfect for startups! We can help you get the necessary collateral designed and ready for your business to hit the ground running. Not sure what you need or how it needs to be for printing? We've got experience both in creating brands from scratch as well as building on existing brand identities. We're also experienced with prepping things for commercial printing, so we've got you covered!
OK, BUT WHY NOW?
When I started DPi Graphics, I was, and still am, extremely inexpensive for the value and level of work I provide. However, I'm to the point now where my prices need to come closer to the value I bring to the table so I can afford to keep putting as much care and attention into my work as I have been. With our new unlimited monthly design plans, I can pay more attention to design instead of chasing late payments or drafting invoices, thus increasing the value and quality of the design of your projects. Hence, win-win for everyone.
Each plan comes with some basic guidelines, such as the number of brands the selected plan covers – if you have a company that has multiple brands within it, then the Design Agency Monthly plans are what you should choose. If you have one company with a single brand, then the Small Business Startup or the Small Business Design plans are for you. Other features that differ based on the plan you choose are turnaround times (3 days for the Startup Plan, 1 day for the other plans) and active projects (IE the number of projects that can actively be worked on at the same time.) You can review the each monthly plan and their features below.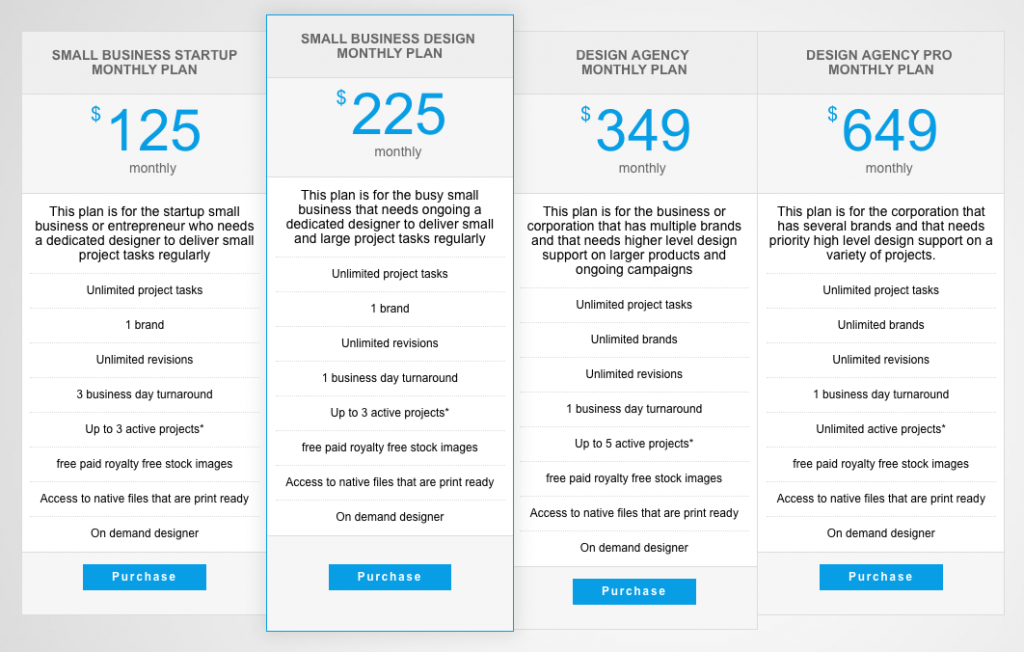 GOT QUESTIONS?
I figured you might have questions, and that's fine. I've answered some anticipated frequently asked questions on our webpage, here. If you've still got questions beyond those, let me know. If you're ready to sign up, please choose a plan from the webpage and click "Purchase". This will open Paypal where you can pay via Paypal or credit card. Please note: This is a recurring payment and will be deducted monthly from your account. The first month will be at 20% off, each month after will be full price.
READY TO SIGN UP?
Like I said, we're really excited about this new service and think it will help you look at your design needs differently. Got more thoughts, comments and questions? Contact me directly or post them below!